Everyone knows her name: Marie Antoinette and many see her as a spoiled frivolous queen! But was she really or is she a victim of poor historical PR?
Youth
Maria Antonia was born on 2 November 1755 in the imperial palace in Vienna, the Hofburg, as archduchess of Austria. She was the youngest daughter and the second youngest child of Emperor Francis I Stephen of the Holy Roman Empire and Empress Maria Theresa of Austria.
Dauphine
After many negotiations it was decided that Marie Antoinette would marry the French dauphin (crown prince). After a sad farewell in Vienna, she was taken to the French border, where she was officially handed over to the French on 7 May 1770. A week after this transfer, Maria Antonia first met her husband, the future Louis XVI and his aunts (Mesdames Tantes de France), the daughters of Louis XV. On May 16, 1770, the fifteen-year-old Louis married the fourteen-year-old Maria Antonia, who after her marriage became known as Marie Antoinette.
Family
The couple initially remained childless for 7 years. Marie Antoinette suffered greatly of it as she got the blame for it. It was her primary task to provide for an heir to the throne. The couple grew to each other and after Louis had undergone a small operation, four children had been born from the marriage:
Marie-Thérèse-Charlotte, Madame Royale (19 December 1778 – 19 October 1851)
Louis-Joseph-Xavier-François, Dauphin (22 October 1781 – 4 June 1789)
Louis-Charles, Dauphin after the death of his elder brother, future titular king Louis XVII of France (27 March 1785 – 8 June 1795)
Sophie-Hélène-Béatrix, died in infancy (9 July 1786 – 19 June 1787)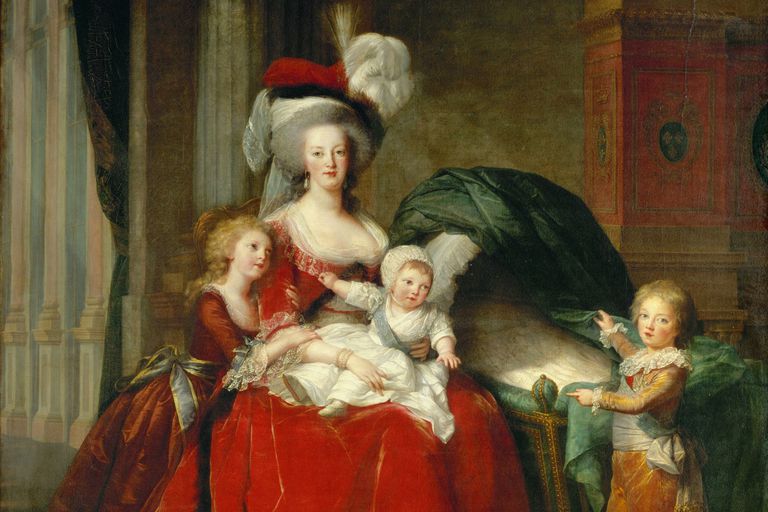 The royal couple has always kept a good relationship. It is known that she had a relationship with the Swede Axel von Fersen.
Queen
King Louis XV suddenly fell ill on April 27, 1774, and on May 10, 1774 around three in the afternoon, the 64-year-old king died of smallpox, after which Louis Auguste became king at the age of nineteen as Louis XVI. On June 11, 1775, Louis was anointed and crowned in the Cathedral of Reims. Marie Antoinette became Queen of France.
Personality
The personality of Marie Antoinette is a much discussed subject. There are writers who seek the cause of the fall of the French monarchy in her character. In her own time she was criticized and vilified on a large scale. Others considered her a saint and martyr.
Marie Antoinette was an attentive and caring mother. When her youngest daughter and eldest son died, in 1787 and 1789 respectively, she was inconsolable. She could also be attentive to foreigners, according to the number of testimonials that have been preserved.
Marie Antoinette had no deep interest in politics, culture or society and was poorly educated. She spoke poor German and until her marriage moderately French. Her Italian, on the other hand, was excellent, and furthermore she played excellent harp. Attempts to read books failed because she was quickly distracted. Superficial pleasures attracted her more than serious matters. Marie Antoinette was never popular with the French.
Marie-Antoinette was also well known for her exaggerated high hairstyles and her passion for jewelery with diamonds. Marie Antoinette spent much more money than was provided for in her allowance, but the king always paid her debts. Only when she was loathed as 'Madame Déficit', she came to repentance. But then it was too late.
A popular story about Marie Antoinette is that when she learned that the French people had no bread to eat, she would have said "S'ils n'ont pas de pain qu'ils mangent de la brioche!" (Let them eat cake!), thereby making it clear that she did not have the slightest idea of ​​the true situation in which the people were wrong. This story is probably not true, but a proof of what people thought of her.
French Revolution
During the French Revolution, the royal family was taken away from Versailles and housed in the Tuileries in Paris as constitutional monarchs. In practice they had no freedom of movement. The attempt to flee to the fortress of Montmédy (they were arrested in Varennes) was heavily charged to them by the extremist press. In August 1792, the extremist Sans culottes attacked the Tuileries, and put the Royal Family in the Tour du Temple in Paris. Soon it became clear that their fate was sealed. The newly elected Convention dismissed the king, held a sham trial in which all legal rules were violated. On January 21, 1793, Louis XVI was executed. In October of that year the lawsuit against Marie Antoinette began, in which she was accused of conspiracy against the French Republic and another collection of fabricated accusations, including incest with her son. She was found guilty and sentenced to death.
Locked in the Conciergerie, she drafted her will. This will, intended for her sister-in-law Madame Elisabeth, never reached her and was found years later in the papers of Robespierre. In this document Marie-Antoinette asked her children not to avenge the death of their father and mother.
Guillotine
After her hair was cut, Marie Antoinette was sent to the guillotine on 16 October 1793. In the Rue du Faubourg St. Honoré, the painter Jacques-Louis David sat on a balcony of an apartment. When drawing the cart, he sketched the last drawing that is known by Marie Antoinette.
Do you want to see more pictures of Marie Antoinette, please have a look at my Pinterest board: